.
WATERCOLORS
I have been painting since 2005, after moving to Gloucester, I took painting lessons during the winter of '04 and '05 and found that I became quite adept in an art form that did not involve digital tools.

My life as a designer is mostly involved with computer related tasks, and thankfully hands-on painting does not. The pure enjoyment of brushing paint on paper and making art the time honored way is pure pleasure.

Limited edition giclee reproductions can be ordered, please inquire.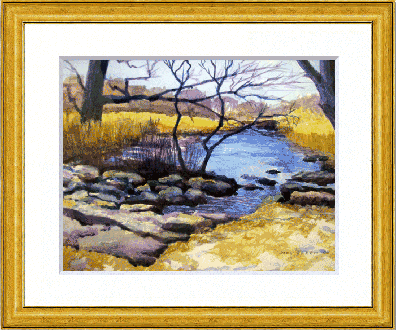 WINTER PATH: Watercolor, painted from a photograph taken on a winter walk near my home in Gloucester. A late winter thaw had melted a pond reflecting the pale sky and the colors were bright and wonderful for that time of year,which made for a wonderful subject to paint.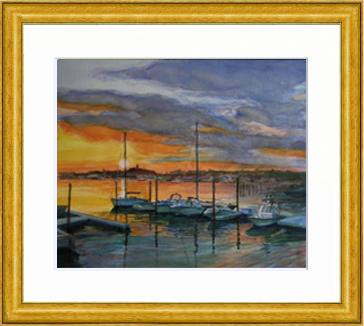 SUNSET AT PIRATE'S LANE: A beautiful Gloucester harbor sunset taken from the parking lot of the Cape Ann Art Association. This watercolor was, painted from a series of sunset photographs over water.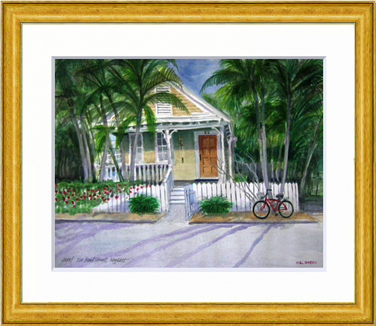 KEY WEST SHOTGUN SHACK:
Watercolor. We were invited to spend a week in Key West for a winter vacation a few years ago in this beautiful renovated shotgun shack. As a token of my appreciation I painted this as a gift for our kind host.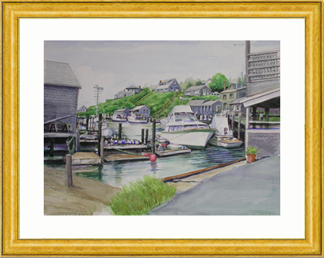 MENEMSHA:
Watercolor. I took a photograph when visiting Menemsha on Martha's Vineyard, and was struck by this unusual mooring arrangement in a creek only yards from a beach and sand dunes.
SOLD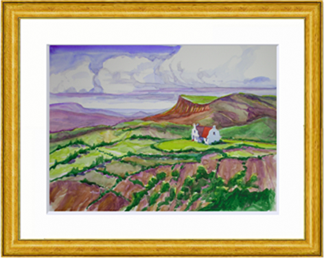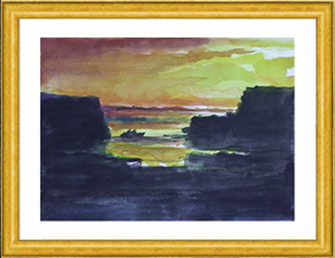 HIGHVELD CAPE DUTCH: Watercolor. I found a black and white photograph in a book about varied South African architecture. What is unusual about this painting is that this house with its distinctive gables, was built a thousand miles north of the western Cape, where this type of farmhouse is usually found.
DAWN AT LANES COVE: Watercolor from a photograph at one of my first painting lessons.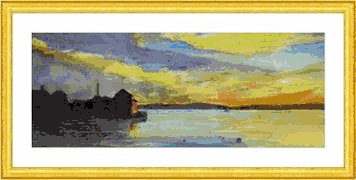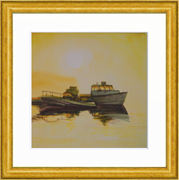 FOGGY DAWN: Water-color. The effect of sun shining through dense fog is something to marvel at. SOLD
MOTIF #1, SERIES: Watercolors. Cape Ann has many beautiful scenes that beg to be painted, but none more so than that of Motif #1, Rockport's ubiquitous landmark. I approached the subject from that of a wandering tourist, capturing glimpses from unusual vantage points – from an alleyway, behind a building and through the window of a gift store. SOLD
THE PAINT FACTORY: Watercolor. Another Cape Ann landmark is Gloucester's 's Paint Factory. This view avoids the old painted lettering that make it stand out from it's surroundings. Locals recognize it anyway. SOLD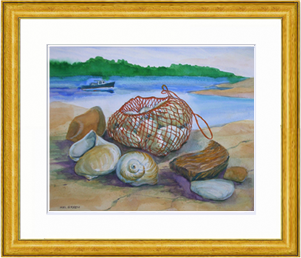 WINGAERSHELLS: A Watercolor. Ever since I moved to beautiful Gloucester, I would pick up a shell or a piece of interesting flotsam as a souvenir of my daily walks on nearby Wingaersheek beach. This was painted partially as a still-life and the background is a remembered scene at the beach. SOLD A second and similar painting was commissioned to balance this painting and hung on the other side of a fireplace.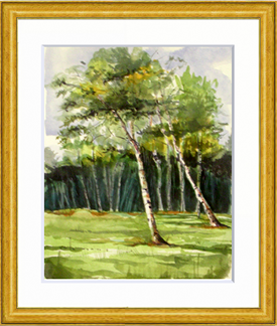 BIRCHES: Watercolor. From a photograph painted in one morning at one of my earliest painting classes.
56 Bennett Street Brighton MA 02135 Tel 781.710.3465 eMail melgreendesign@gmail.com for information and painting commissions.